Food Videography for Cuisine Solutions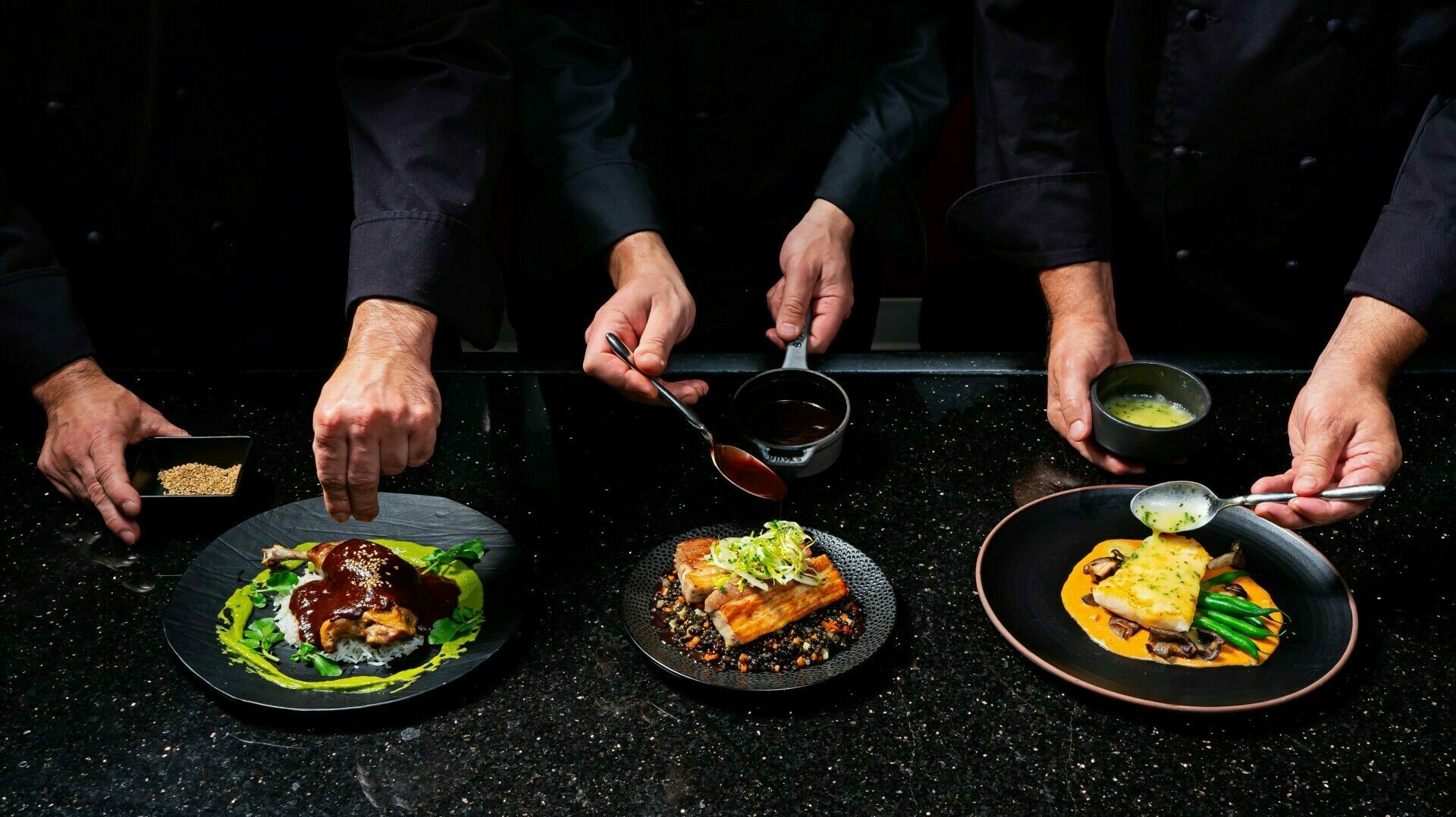 Cuisine Solutions, a leading provider of high-quality sous vide meals, recently asked Eagle Wing Productions to film their coveted International Sous Vide Day event. The event allowed us to travel all over the country in order to capture footage of renowned chefs and their experiences using the sous vide technique to create some stunning recipes.
Here's an example of our work for Cuisine Solutions:
Cuisine Solutions' Request
International Sous Vide Day is an annual celebration that Cuisine Solutions has hosted since 2018. It brings together some of the world's best chefs and food enthusiasts from all over the globe who are passionate about creating delicious sous vide dishes. Cuisine Solutions asked us to capture these unique culinary experiences through food videography. We traveled to four different cities including Miami, New York City, Los Angeles, and Washington, DC in order to capture the diverse cuisines these chefs were creating across America.
The sous vide cooking technique has become increasingly popular among chefs around the world in recent years. Sous vide is a French term meaning "under vacuum" and it refers to a method of slow-cooking food that is placed in a vacuum-sealed bag and submerged in hot water for an extended period of time. This ensures that the food is cooked evenly, tenderly and retains its natural flavors.
In our videos, we showcase professional chefs demonstrating how sous vide works and providing tips on how best to use it. These chefs shared their stories about why they chose sous vide as their preferred method for cooking and explained its advantages over other methods. They described how precision timing along with precise temperature control can ensure perfectly cooked food every time.
We discovered that chefs are finding creative ways to use this technique with amazing results. From eggs benedict with perfectly poached yolks to succulent pork chops that retain their juiciness, sous vide allows for precision cooking like never before. Not only does it make delicious dishes, but it also provides consistency every time which makes it ideal for restaurant kitchens where repeatable quality is essential.
Cuisine Solutions Directed Our Pre-Production
For their latest video project, Cuisine Solutions did the heavy lifting on pre-production, from conceptualizing a menu to hiring talented chefs. The team worked tirelessly to develop a concept for the video that would showcase their culinary creations while highlighting the talents of their chefs. These professional chefs carefully selected their ingredients and recipes to highlight the sous vide technique. With the menu finalized and staff assembled, it was time to shoot the video!
We met with the chosen chefs to discuss the production process and what we would need from them in order to have a successful shoot. From these conversations we had a better understanding to proceed with our shot mapping and storyboarding with how to best shoot each location. The meeting between Eagle Wing Productions and the chefs included walking through the steps of the recipe so that our videographers knew what to capture, coordinating with chefs on set, and making everyone aware how long it would take to film. We wanted to be sure we got what we needed in case of time constraints.
Eagle Wing Retained Creative Freedom
Cuisine Solutions, a global leader in the food industry, trusted us to film their chefs. Our team was given creative freedom and autonomy over the production of this video project – something we consider to be a great honor. We set out with the mission of showcasing these amazing chefs and capturing their passion for cooking while featuring the sous vide technique.
We spent time getting to know each chef's unique style and technique before shooting began. During filming, we focused on highlighting the artistry behind each dish that was prepared using the sous vide technique by allowing them to work with minimal interruption from our crew. In addition, we were able to capture candid moments that allowed viewers an intimate glimpse into the lives of these talented chefs. In the end, we created a beautiful finished product by combining all elements together seamlessly with exceptional cinematography and sound design.
"Culinary work naturally lends itself to beautiful images… especially when you are working with master chefs. Lighting is also always the key to these shoots. You can't create beautiful images without beautiful lighting."
~ Andrew Eckhoff, Eagle Wing Producer


Reassuring the Talent for our Cinematic Video
We were fortunate to have some of the best chefs in the industry help us create these culinary videos. However, since this kind of production was foreign to them, we had to make sure they felt comfortable and understood our expectations. For some of our chefs, working in a production setting with lights and cameras pointing at them was an entirely new experience.
Throughout the process, we ensured that everyone involved was aware of what their roles were in creating each video. We made sure our chefs knew exactly what we needed from them and reassured them that their skills and talents would shine through on camera. Additionally, we provided plenty of support along the way so they could focus on delivering the best performance possible when it came time for filming.
Bringing the Vision to Life
When it comes to producing a video featuring chefs, there are many pieces that need to come together for a successful shoot. Once we were on set with the chefs, we had our filming plan in place. That was the easy part. Cuisine Solutions had planned out each scene from start to finish in pre-production, so all we had to do was execute the plan.
Even with a solid game plan in place, there's no guarantee that everything will run smoothly. We quickly found out just how unpredictable a specific shoot can be when working with live ingredients like meats and vegetables. One of our greatest challenges was doing additional takes as we encouraged the chefs to replicate their dishes with perfect continuity. Despite the unexpected challenges that arose throughout the day, our dedicated crew worked diligently until our shot list was complete – and everyone enjoyed some delicious food along the way. Our talented crew worked hard and delivered great results!
The final product is sure to leave viewers hungry for more. Our food videography is now available for viewing on YouTube. Each video shares this elegant French technique with Cuisine Solutions' prospective customers.
Partner with Eagle Wing Productions
Are you looking to get started on a cinematic video project in the Salt Lake City, Utah area? Eagle Wing Productions is the go-to company for all your video needs. Our team of highly trained professionals has the expertise and knowledge to bring any concept to life on screen. Whether you need an engaging commercial or a feature-length film, Eagle Wing Productions will deliver high-quality results.
Our services cover all stages of production. With our advanced equipment and experienced crew, we can make sure that every aspect of your project looks professional and polished.